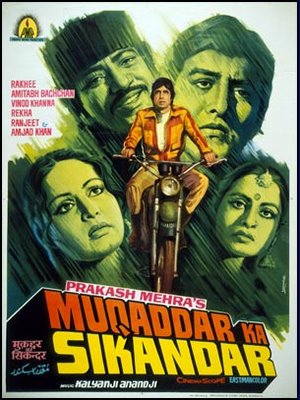 Of the 70s, Muqaddar Ka Sikandar is a good masala movie but it a bit sadder than the other's of this era. The story of the movie is about an orphan boy, Sikander played by Amitabh Bachchan. The orphan, when he was a small boy had to face a lot of accidents in life and heart broken he visited a mystic who advised him to face troubles with a smile. Twenty years later, Amitabh Bachchan (Sikander) was a successful businessman. He searches for the girl who had shown a lot of care for him. In the same time a dancer, Rekha fall for Amitabh. What follows is a fight for love and power. The title itself means 'Conqueror of Destiny' and also the application to the character's name; the title is simply apt for the movie.
Muqaddar Ka Sikandar Songs Review
With music by the legends, Kalyanji-Anandji, Muqaddar Ka Sikander songs are simple heart rendering from songs.pk. The mujra, 'Salam – E Ishq' with Rekha on the dance floor still makes every dancer move to it. The old age musical instruments have very well been used with the dholak and harmonium capturing the center stage. 'O Saathi Re' is one of those songs which lovers still have on their on their tongues if they have to woo their love. The song is still well known just because of its lyrics and the feel it gives. The sad version of the song is also very good with Asha Bhonsle's nightingale voice. 'Who Muqaddar Ka Siqanker' gives you the josh to live life with lyrics by Anjaan and Kishore Kumar's vocals. 'Zindagi Tho Bewafa' is a slower version of the song with the same lyrics. 'Pyar Zindagi Hai' has Asha Bhonsle and Lata Mangehkar coming together on a dance track.