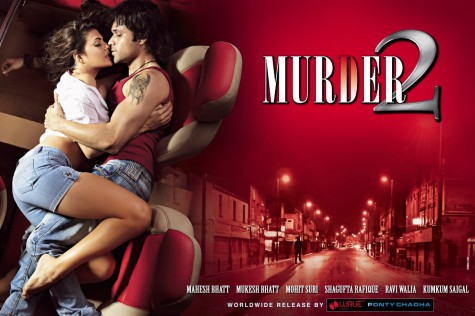 Murder 2 is yet another erotic thriller from Mahesh Bhatt after the success of Murder in 2004. With the ever hot and handsome Imran Hashmi paired with the Sri Lankan beauty Jacqueline Fernandez, this Bollywood movie is the most awaited sequel of the year. The audience is all waiting to watch the movie after those mind boggling trailers, Murder 2 songs promos and wallpapers which depict mixed emotions of sex and hatred. The film has been rated 'A' by the Indian Censor Board as it mostly deals with the lives of prostitutes and pimps and has high erotic content. The movie shot in Mumbai and Goa says the story of serial killing of city girls.
About the film
Director : Mohit Suri
Producer : Mukesh Bhatt
Release Date- 8th July 2011
Cast : Emraan Hashmi, Jacqueline Fernandez & Yana Gupta
Trailer :

Murder 2 Songs Album
Director has experimented with different composers and each song is different from the other. The first release of Murder 2 songs, 'Haal e Dil' by TV sensation Harshit Saxena, is a success at the box office with the low tones and soft ballad style music. But, it is 'Aa Zara' by Sunidhi Chauhan that will make you go crazy about the music and you would love to set as your ring tone. It is a must watch video with hot Jacqueline Fernandez moving sensuously to the guitar strings. 'Aye Khuda' has a Sufi touch to it and its club remix will surely be a hit at the music jukeboxes. Make sure you download all the songs from Songs.pk, both the soft versions and the reloaded ones. You will surely love every bit of the music and great lyrics. But the question is will Murder 2 stand up to the expectations of the fans and beat the records of its prequel?
MP3 Downloads

Hale Dil
Alternative content
Alternative content
Alternative content
Alternative content
Alternative content
Alternative content
Alternative content
Alternative content
Murder 2 Video Songs
Soundtracks List
| No | Song Name | Artist |
| --- | --- | --- |
| 01 | Hale Dil | Harshit Saxena |
| 02 | Aa Zara | Sunidhi Chauhan |
| 03 | Aye Khuda | Kshitij Tarey, Salim Bhat & Mithoon |
| 04 | Phir Mohabbat | Mohd Irfan, Arjit & Saim Bhat |
| 05 | Tujhko Bhulaana | Sangeet Haldipur & Roshni Baptist |
| 06 | Aa Zara (Reloaded) | Sunidhi Chauhan |
| 07 | Hale Dil (Acoustic) | Harshit Saxena |
| 08 | Aye Khuda (Remix) | Kshitij Tarey, Salim Bhat & Mithoon |