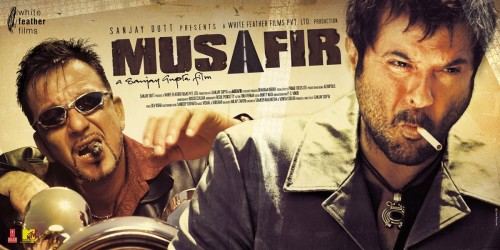 Sanjay Gupta's Musafir is a grim departure from the conventional bollywood movies. It creates before the viewer a sordid world of deception, debauchery and violence because of which it was awarded an 'A' certificate, as fit only to be viewed by adults. The central theme of the movie is the leery, sordid and sadistic marriage alliance of Mahesh Manjarekar and Sameera Reddy. However, Sameera is unlike any other victimized wife seen before in Bollywood movies. She takes her husband's brutality without a flinch and guiltlessly slithers into an out of marriage relationship with Anil Kapoor. Things come to a head when both the husband and wife try to convince him to kill their spouse. The movie is driven by Sanjay Dutt in the role of a mafia don.
About Musafir's Music Album
Musafir has a whopping collection of thirteen songs. The adrenaline pumping song ishq kabhi kariyo na is in two versions, by Sunidhi Chauhan and Sukhwinder Singh, both of which rock. Rabba appears in four versions: the lounge version about separation and pain, the techno version for the hip-hop generation, the Sufi version that evokes religiosity and faith and the silky version which indeed provides a silky touch to your heart. The love duet phir na kehna is very ably rendered by Kumar Shanu and Sunidhi Cahuhan, while door se pass is an amazingly composed track by Vishal Shekhar that takes you to dance floor. Tej dhar, again in two versions, sun suniyo, and saaki are other numbers matching the situations of the movie. Download Musafir songs from songs.pk and get immersed in its haunting, thrilling and rocking numbers that will transport you to a different world – the world portrayed by the movie.