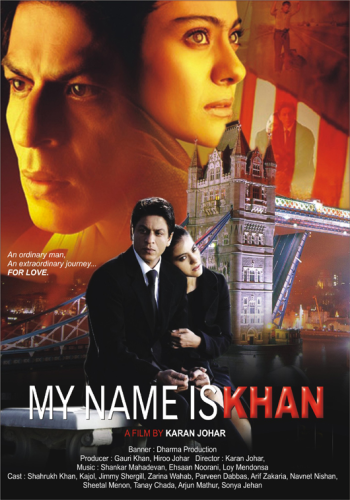 My name is Khan, is a upcoming Bollywood Movie, starring Kajol and Sharukh once again together on the big screen. It is a romance and social movie, directed by Karan Johar under the banner of Dharma Productions. It is releasing on 12th Feb 2010. The story and script of the movie has been written by Karan Johar and Shibani Bathija. There are a lot of expectations from this movie, by all the SRK and Kajol fans. Trailer of the movie has already created a lot of buzz among the fans, and it is the Bollywood Movie creating news these days. Music and songs of My name is Khan are given by Shankar Mahadevan, Ehsaan Noorani and Loy Mendonsa.

Music Album
Album Name- My name is Khan
Music Director – Shankar Ehsaan Loy, Indrajit Sharma
Lyricist – Niranjan Iyengar
Songs are available as Audio CD in markets, and MP3 download at various sources online.
List of Songs of My Name is Khan
01 – Sajda
02 – Noor E Khuda
03 – Tere Naina
04 – Allah Hi Raham
05 – Khan Theme
06 – Rang De Links
Download Songs
There are many sites to download hindi songs free but most of them are illegal and not preferred.
To download the songs of My Name is Khan legally you can sign up to brand new site offered by BSNL at- http://bsnl.hungama.com/ (Songs.pk might be an illegal website and should not be used) which offers the latest hindi songs download at just Rs. 150 per month. The songs quality is amazing and 100% Legal.
*Noor E Khuda* We all have seen this film and most of us have cried in this song. The music that SEL (Shankar-Ehsaan-Loy) have given is amazing. Adnan Sami and Shankar Mahadevan sing the song so nicely that it touches your soul. They have sang with the so called feel necessary for such songs to work on the audience. Niranjan Iyengar has penned down the lyrics which suit the situation well. SRK is going to wards his new journey, and Kajol is missing him and a nice background song feels awesome. Shreya Ghoshal also enters in the later stages of the song for 1 para.
The Video has been embedded from Youtube uploaded by some user there and we have no responsibilities for its content.
Note: this is not a video song. It is just audio promo of this song.
Tere Naina is beautiful song which enters the Qawali type mood in later stages. Shafqat Amanat Ali Khan, the singer of the song has done a good job and we will expecting more from him. Also, the video of Tere Naina is very nice, when SRK is staring at Kajol's Naina 'EYES'. Sometimes it seems that this song resembles the much heard 'Mitwa' from another Karan Johar's film Kabhi Alvida Na Kehna but this is true for only some portions of the song. Watch Tere Naina Video Song below.
To get a glipse of full audio song please visit Youtube.
Sajda is a Qawali type song delivered nicely by Rahet Fateh Ali Khan. It is one of the songs from this film that depends entirely on its music and amazing singing. It has been on top charts around the globe, even in English speaking countries. Some songs die as soon as the movie is out of cinemas, but this is not one of them. With a unique quality which attracts every one towards it, Sajda has been one of the top songs for a lot of time. Check out the video song of Sajda below.