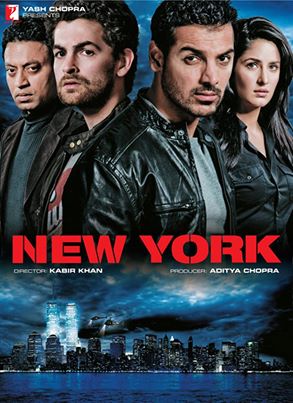 New York is an action thriller releasing Bollywood movie on June 26 2009. The movie has been directed by Kabir Khan and produced by Aditya Chopra and Yash Chopraunder under the most popular banner name of Yash Raj Films. The main starring includes very popular Bollywood actors like John Abraham, Katrina Kaif, Neil Nitin Mukesh and Irfaan Khan. The movie also has some cool music and songs.
New: This movie was a success. All the actors did a very good job. IT got rating of 3-4 at most of the sites and box office collection was also very good. Some of the songs of this film (Tune Jo Na Kaha etc.) gained a lot popularity and in sad version of this song, Neil has acted brilliantly. The thrill in the end ads to the drama and makes it complete Bollywood entertainer.
New York Official Trailer
The official theatric trailer of this movie has been released and you can watch it on the official website of the movie here.
New York Movie Story
New York brings to screen an event that reverberated universally.
It touches the lives of three friends – Maya (Katrina Kaif), Sameer (John Abraham) and Omar (Neil Nitin Mukesh) – leading a carefree life in New York….. Read More
Music of New York
Artist……………: Various Artists
Album…………….: New York
Genre…………….: Soundtrack
Source……………: CD
Year……………..: 2009
Songs of New York
1. (00:05:33) K.K. – Hai Junoon
2. (00:06:30) Sunidhi Chauhan – Mere Sang
3. (00:05:12) Mohit Chauhan – Tune Jo Na Kaha
4. (00:05:48) Pankaj Awasthi – Aye Saaye Mere
5. (00:06:11) K.K. – Hai Junoon (Remix)
6. (00:05:57) Sunidhi Chauhan – Mere Sang (Remix)
7. (00:04:07) Caralisa Monteiro – Sam's Theme
8. (00:03:09) Julius Packiam – New York Theme