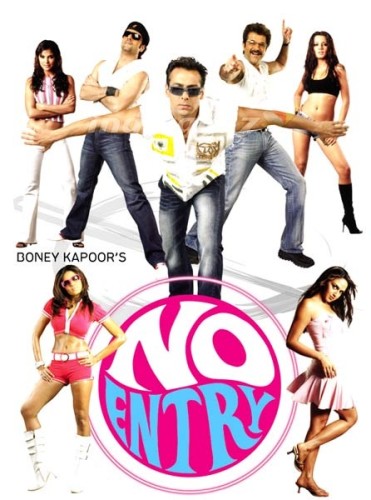 No Entry is a hilarious movie that takes up the theme of men wanting their share of fun outside marriage to make you laugh out of your wits. It is the story of Kishen, a faithful husband who still has a subdued desire to have some fun outside marriage. It is his friend Prem, the playboy who decides to provide him with this fun. The man who is caught in between is Sunny, a bachelor friend of Kishen. Then there are Kaajal – the suspicious wife of Kishen, Pooja – the trusting wife of Prem, and Sanjana – the fiancée of Sunny. To top them all, there is the sultry beauty Bobby, a call girl sent to Kishen by Prem who walks into the life of them all leading to chaos, commotion and crisis.
No Entry Film Info
Directed by Anees Bazmee
Music and Songs by Anu Malik, Salim-Sulaiman
Produced by Boney Kapoor, Surinder Kapoor
Country India
Starring Anil Kapoor, Salman Khan, Fardeen Khan, Bipasha Basu, Lara Dutta, Esha Deol, Celina
Release date August 26, 2005
Songs of No Entry
This Bollywood movie is an out and out entertainer with a music that matches the mood. The constant refrain in the movie is the feet tapping no entry, a number that sticks to your lips as you walk out of the hall. Just love me is another English titled number picturized on Salman Khan and reflects his character in the movie. Why why, hot hot, ishq mein, kahan ho tum, dil to pagal hai and mere jaisa koi nahin are other songs in the movie. Obviously, one wouldn't expect soulful lyrics from a movie whose sole purpose is to make you laugh. The songs match the mood of the movie as well as the viewer when he is watching it. Just go to songs.pk, download No Entry songs and see how they lighten your mood and blow away the stress.