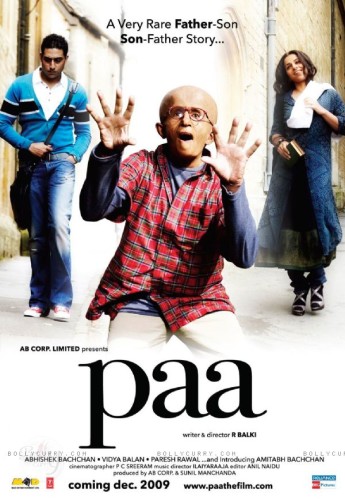 Paa, the upcoming Bollywood Movie is creating a great buzz. Starring Amitabh Bachan as son of Abhishek Bachan, it is said to be a very rare Father-Son-Son-Father story. Directed by R. Balki and produced by Sunil Manchanda, AB Corp, Paa is releasing on 4th Dec 2009. Apart from Amitabh and Abhishek, Paa stars Vidya Balan, Paresh Rawal and Arundhati Naag as main leads. In the movie, Amitabh Bachan is playing role of a 13 year old buy who has a rare genetic defect causing accelerated aging. The music and songs of Paa are directed by Ilayya Raja.
Paa Music Album
T Series is back with another great album, Paa, music given by Ilayya Raja and the lyrics of songs are written by Swanand Kirkire. There are 8 total songs of which 1 is Remix version (Paa Theme Music). List of songs has been given below.
List of songs of Paa
1. Mudhi Mudhi Ittefaq Se – Shilpa Rao
2. Gumm Summ Gumm – R. Bavatharini
3. Udhi Udhi Ittefaq Se – Shilpa Rao
4. Hichki Hichki – Sunidhi Chauhan
5. Gali Mudhi Ittefaq Se – Shaan
6. Halke Se Bole – Chorus
7. Mere Paa – Amitabh Bachchan
8. Paa Theme(Remix) – Chorus
Download Paa Songs
As mentioned Isongz.com doesn't offer MP3 downloads.
There are many sites to download Paa songs free but most of them are illegal and not preferred.
To download the songs of Paa legally you can sign up to brand new site offered by BSNL at- http://bsnl.hungama.com/ (Songs.pk might be an illegal website and should not be used) which offers the latest hindi songs download at just Rs. 150 per month. The songs quality is amazing and 100% Legal.