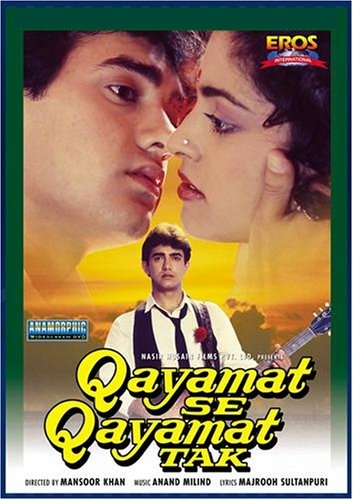 Qayamat Se Qayamat Tak is a passionate story of the family feud between two Rajput families and how it wipes out with blood, the love of the younger generation that wants to shed the burden of the past. The first qayamat is the complicated circumstance in which a bloody feud arises between the two families. And the second qayamat is the gory end that awaits Raj and Rashmi, played by Amir Khan and Juhi Chawla, who belong to these families but unknowingly fall into love with each other. The lovers have a brief period of happiness, wandering in forest and living in a deserted fort, before retribution strikes and this provides the setting for its beautiful songs.
Some More Info about this Film
Directed by Mansoor Khan
Music and Songs by Anand-Milind
Starring Aamir Khan, Juhi Chawla
Release date April 23, 1988
Qayamat Se Qayamat Tak Songs Album
The movie was a smash hit that shot its leading pair to stardom overnight. Though it had its fair share of violence, yet the romantic storyline, along with its melodious tunes, brought about a paradigm shift in Bollywood movies, from hackneyed storylines and pop influenced soundtracks to romance and melody. The song papa kehte hain, a forceful announcement of the ethos of new generation, was the one that established Udit Narayan in Bollywood music. Other songs like ghazab ka hai din and ae mere humsafar became a perpetual feature on the lips of every music lover of the time. If you want to relive those moments, go to songs.pk, download all Qayamat Se Qayamat Tak songs and experience the triumph of love over the forces of hatred. After all, even in their death, the lovers unite in each other's arms, in the backdrop of the setting sun, and bring the family feud to an end.