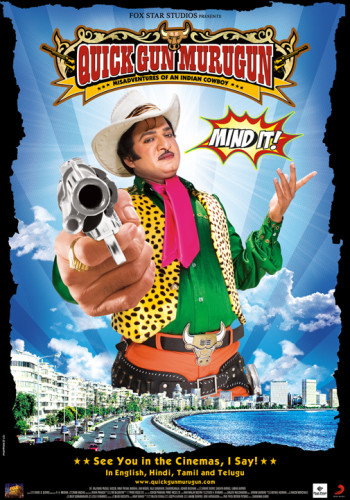 Quick Gun Murugun 'Misadventures of An Indian Cowboy' is a comedy movie releasing on 28 August 2009. The movie has been directed by Shashanka Ghosh and presented by Fox Star Studios under the banner of Phat Phish Motion Pictures. The movie stars Dr. Rajendra Prasad, Vinay Pathak, Rambha, Sandhya Mridul, Anu Menon, Ashwin Mushran with Ranvir Shorey as special appearance.

Story: Quick Gun Murugun is a superhero with awesome powers. He is a south Indian cowboy who considers his duty to utmost level. His idea of life is to serve and protect. The storyline revolves around Quick Gun Murugun and his misadventures. And also his fight with his arch villain Rice Plate Reddy! … More about story
Music of Quick Gun Murugun
Album- Quick Gun Murugun
Music Director : Daniel George
Artists- Various Artists
Release- 2009
Source- Audio CD
Format- MP3 and Audio
List of songs of Quick Gun Murugun
01.Dialogue Mix : Film Artists
02.Murugun Superstar :Raghu Dixit & Ranina Reddy
03.Mind It (Tamil Bhangra):Mika
04.Kyoon Keeda Hai Aapko? : Vijay Prakash
05.Ek Tha Murugun :Vijay Prakash
06.Chat Mangni Lover :Vijay Prakash
07.Kuchi Kuchi Twist :Vijay Prakash & Hamsika Iyer
08.Naam Mera Mango Dolly :Geeta John
09.Space Goddess (Chat Mangni Remix) :Vijay Prakash & Pratichee Mohapatra
10.Mind It (Club Mix) :Mika & Mc Bobkat
11. Aunties On The Dance Floor (Chat Mangni Remix) :Vijay Prakash
12.Ragamuffin Mix :Vijay Prakash, Hamsika Iyer
Download Quick Gun Murugun Songs
As mentioned Isongz.com doesn't offer MP3 downloads.
There are many sites to download Quick Gun Murugun songs free but most of them are illegal and not preferred.
To download the songs of Quick Gun Murugun legally you can sign up to brand new site offered by BSNL at- http://bsnl.hungama.com/ (Songs.pk might be an illegal website and should not be used) which offers the latest hindi songs download at just Rs. 150 per month. The songs quality is amazing and 100% Legal.