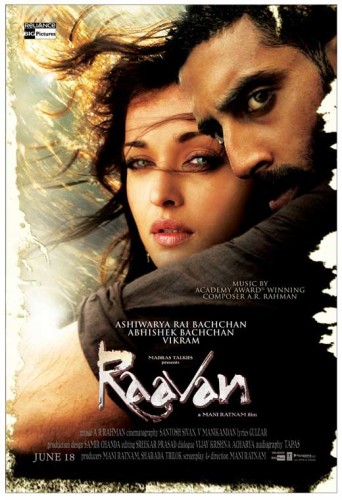 Raavan is upcoming Bollywood Movie directed by Mani Ratnan. A.R. Rahman the famous music composer and one of the best music directors who gave music for last year hits like Delhi 6, Dev D, Ghajini etc is the director of songs
of Raavan. Abhishek Bachchan, Aishwarya Rai and Vikram are starring as as the main lead roles in the movie with Govinda, Ravi Kishan, etc. as other supporting roles with Bipasha Basu as a special appearance. This movie is also being made in Tamil with different cast and same story named Raavanan. The movie is releasing on June 18 2010 under the banner of Madras Talkies.
Raavan Music Album
As already mentioned, the music of the movie has been directed by the famous Music Director A.R. Rahman and lyrics of the Raavan Songs are given by Gulzar. The music album released on April 24 under the banner of T Series. As it is A.R. Rahman's music the expectation have grown high. You must listen to the songs if you like the AR Rahman music like I do. After I became a fan of Dev D and Delhi 6 songs and also the songs of Ghajini, I have to listen these songs. The music has been released as Audio CD and MP3 and you can buy it in stores.
List of Songs of Raavan
The list of songs with total playing time and the singers has been given below.
1. "Beera Beera" – Vijay Prakash, Mustafa Kutoane – 3:15
2. "Behene De" – Karthik,Mohammed Irfan – 6:04
3. "Thok De Killi" – Sukhwinder Singh, Am'Nico – 4:58
4. "Ranjha Ranjha" – Rekha Bhardwaj, Javed Ali – 5:54
5. "Khilli Re" – Reena Bhardwaj – 4:11
6. "Kata Kata" – Ila Arun, Sapna Awasthi, Kunal Ganjawala – 5:11
You can also listen to the songs free the player given below or directly at Raaga.com
Download Songs
Buzzworld.in doesn't offer free MP3 downloads. You can still listen to songs and download them free from links below by Songs.PK site.
Beera
Scripts not working
Scripts not working
Scripts not working
Scripts not working
Scripts not working
Scripts not working