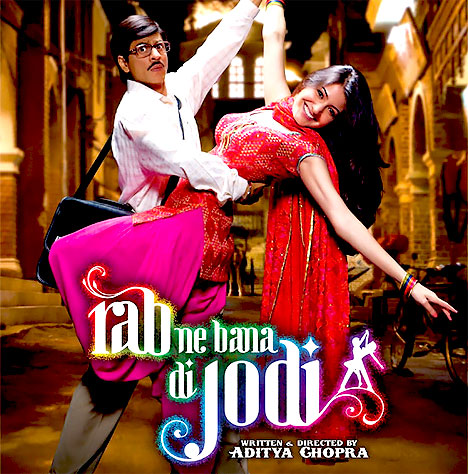 Rab Ne Bana Di Jodi movie is a different venture which sees Shahrukh Khan in a different kind of love story. Unlike most of his other movies, this one does not have backdrops of London or Switzerland, but has the backup of great Rab Ne Bana Di Jodi songs. The movie is set in Indian traditions in the streets of Amritsar. SRK plays the role of Surinder who is a simple honest man. He falls in love with Taani (Anushka Sharma) who is a very fun-loving type of person. Circumstances bring them together and they get married in a jiffy. To get the love of his wife, Surinder transforms at occasions into Raj, the free type of guy. The climax is a good one indeed after they win the dance competition.
More about Movie:
Director : Aditya Chopra
Producer : Aditya Chopra, Yash Chopra
Starring : Shahrukh Khan, Anushka Sharma, Vinay Pathak
Music and Songs Director : Salim-Sulaiman
Distributor : Yash Raj Films
Release date : December 12, 2008
More about Music
The combo of Aditya Chopra and SRK always brings along great music along with the package. The director has roped in Salim-Sulaiman and Jaideep Sahni for the songs of Rab Ne Bana Di Jodi. The songs are all situational and there are no unnecessary songs in the movie. 'Tujhe Mei Rab Dikhta Hai' is a simple Indian kind of song with a rustic feel to it. The song has a kind of Veera Zaara feel to it. The original song is sung by SRK to express how much he loves the girl. The female only version is a slower track and sad version. 'Haule Haule' is a better song from the album download from songs.pk, which has a small beats and anyone would love to mumble along the song at all times. The song has simple melody that makes it a hit with Sukhwinder Singh crooning the song. 'Dance Pe Chance' was expected to be the hit song of the movie, but fails to meet the expectation.
Most Popular Rab Ne Bana Di Jodi Songs Videos
Dance Pe Chance

Tujh Mein Rab Dikhta Hai

Haule Haule