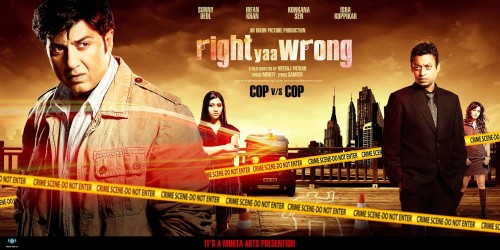 Right Yaaa Wrong is a musical and crime based thriller Bollywood Movie that is releasing in cinemas on 5 March 2010. Film has been directed by Neeraj Pathak and produced by Neeraj Pathak and Krishan Choudhary. It is a come back of Sunny Deol as a many lead in this film after a long time. Movie also stars Irrfan Khan, Eesha Koppikhar and Kiron Kher as main lead roles. Music and songs of Right Yaa Wrong have been directed by Monty Sharma and the lyrics to the songs are given by Sameer.
Right Yaa Wrong Music Album
Album Title- Right Yaa Wrong
Music Director- Monty Sharma
Lyricist- Sameer
Total No of Songs- 7
Music Availability- MP3 320 KBPS and Audio CD
List of Songs of Right Yaaa Wrong
01 – Meri Aashaon Ki – Amitraj
02 – Lakhnavi Kabab – Master Salim
03 – Tiledar Dupatta – Mika & Shail
04 – Right Yaa Wrong – Ujjaini Mukherjee
05 – Rihaee – Kunal Ganjawala
06 – Lakhnavi Kabab – Master Salim
07 – Right Yaa Wrong – Kunal Ganjawala
Download Right Yaaa Wrong Songs
As mentioned Isongz.com doesn't offer MP3 downloads.
There are many sites to download hindi songs free but most of them are illegal and not preferred.
To download the songs of Right Yaaa Wrong legally you can sign up to brand new site offered by BSNL at- http://bsnl.hungama.com/ (Songs.pk might be an illegal website and should not be used) which offers the latest hindi songs download at just Rs. 150 per month. The songs quality is amazing and 100% Legal.