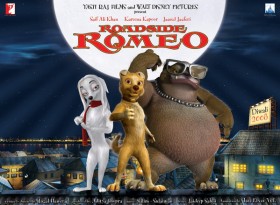 Yash Raj Films combine hands with Walt Disney for Roadside Romeo. Being an animation movie, made in India, has great animation to its credit. The animation is by Tata Elxis/VCL. The script of the story is weaker when compared to the hit animation movies like Lion King or Finding Nemo. The story is like the 80's hero based where there is a hero, heroine, a villain and a typical masala love story. A wrong concept for an animation movie by Jugal Hansraj. The Roadside Romeo Songs are also not worth mentioning and had no say in the chart buster list.
Roadside Romeo's Kids Songs
Yash Raj Films has brought together Salim-Sulaiman for the music and Jaideep Sahni on the lyrics. Animation movies like Cinderella have gifted the western music industry with great songs and this was expected from Roadside Romeo songs too. The title track 'main Hoon Romeo' is a fun track rendered by Kunal Ganjawala. The song has great lyrics which says the character of the Romeo and is the introductory song of the character. The remix version by John Stewart and Salim Merchant adds to the glitz of the song. 'Choo Le Na' is a seductive dance track, yet again with Sunidhi Chauhan on the vocals. The DJ Suketu remix version of the song also sounds good. 'Cool Cool' has been rated to be a boring track with Javed Jaffrey on the voice. The song also features Saif Ali Khan. 'So Right' is a western melody song and is the best song of the album with its soft serene feeling.