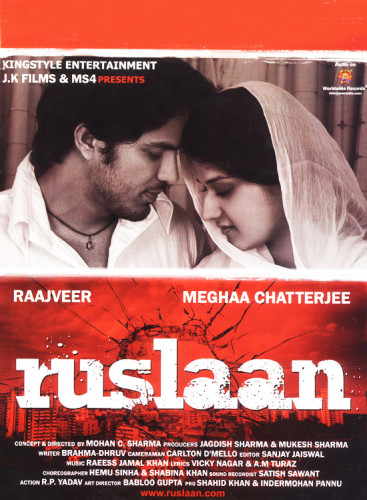 Ruslaan is a movie by Mohan Sharma produced by Jagdish Sharma, Mukesh Sharma under the banner of J. K. Films. The movie stars actors like Asrani, S. M. Zaheer, Rajan Sharma etc. (i.e mostly new faces). The music and songs of the Ruslaan have been given by Raeez Jamal Khan and the lyrics have been written by A. M. Turaz. The movie's story is on militancy. It is based on our thinking and perception and how others have to suffer because of it. Ruslaan the main lead leaves his home and going by train he receives a phone call, and to shock us there are series of blasts. As his name is 'Ruslaan' he has to go for questioning as being involved in attack. The movie releases in 2009. The movie also has a sequel of hit song 'Maula Mere Maula'.

List of Songs of Ruslaan
01 – Master Salim – Maula Maula
02 – Hariharan & Sadhna Sargam – Pyar Ki Parsayee
03 – Sunidhi Chauhan & Javed Ali – Har Ek Lamhe
04 – Master Salim – Maula Maula (Remix)
05 – Sunidhi Chauhan & Javed Ali – Har Ek Lamhe (Clubmix)
06 – Instrumental – Pyar Ki Parsayee
Download Ruslaan Songs
As mentioned Isongz.com doesn't offer MP3 downloads.
There are many sites to download Ruslaan songs free but most of them are illegal and not preferred.
To download the songs of Ruslaan legally you can sign up to brand new site offered by BSNL at- http://bsnl.hungama.com/ (Songs.pk might be an illegal website and should not be used) which offers the latest hindi songs download at just Rs. 150 per month. The songs quality is amazing and 100% Legal.