SALAAM-E-ISHQ Poster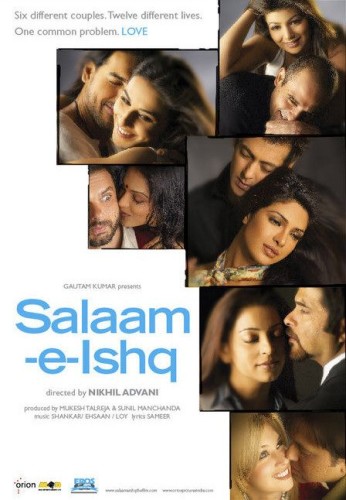 SALAAM-E-ISHQ Plot:
With six stories running simultaneously, the Bollywood movie is a lot confusing. All the six stories are about love and love only, ode to all kinds of love, but fails to make its position on the charts. Vidya Balan and John Abraham is married and make a lovely couple but she looses her memory in a train accident. Govinda meets Shanon Esra who comes to look for her boyfriend, but she gradually falls in love with Govinda while he decides to marry an Indian girl of his parent's choice. Anil Kapoor and Juhi Chawla lead a happy married life with two children until he meets Anjana Sukhani. Priyanka Chopra is an item girl and wants to enter Karan Johar movie and acts to be in love with a fake person, Rahul. This Rahul later come back. Akshaye Khanna is engaged to Gia but breaks the engagement 10 days to marriage and later he realizes that he had done a mistake. Sohail Khan is married to Isha Kopikar and they lead a happy life when something goes wrong.
SALAAM-E-ISHQ Songs Review
Even though the movie didn't do well at the box office, Salaam E Ishq songs are super hit. As a relief to the ears wounded with the remixes, this album has 7 tracks with absolutely no remix tracks, thanks to Shankar-Ehsan-Loy for that.The songs are a must download from songs.pk. The movie is a tribute to love and the music has been perfectly crafted for that. 'Saiyaan Re' is a kind of qawwali number with a beautiful rhythm and the various instruments used in the song and is a typical Govinda song. 'Dil Kya Kare' will keep you wondering as to whether you have been hearing to a Hindi movie song or a Caribbean one. The instrument usage has been kept minimal and the whole song has a tingling effect to it. 'Salam E ishq', the title track has all the couples in the picturization and takes you into the mood of the movie. 'Tenu Leke' is the hit songs at the marriages with its dhol and band baja.