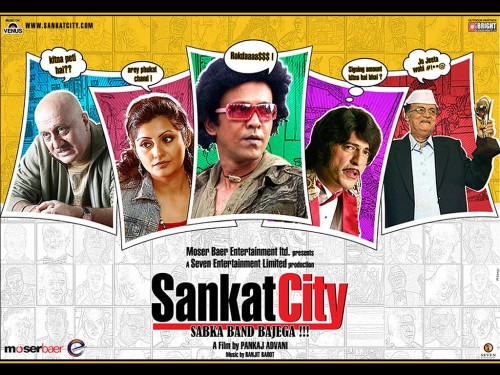 Sankat City is an upcoming Bollywood Movie releasing soon on 10th July. It is a comedy movie directed by Pankaj Advani and produced by Seven Entertainment. The movie is presented to us by Moser Baer Entertianment. The movie stars actors like Anupam Kher, Kay Kay Menon, Dilip Prabhavalkar, Rimii Sen, Chunkey Pandey, etc. The music and songs of Sankar City are directed by Ranjit Barot.
Movie Story
Guru (KK Menon) is a smalltime car thief. Ganpat, who owns a dilapidated garage, is his partner-in-crime. Guru whacks cars and Ganpat (Dilip Prabhawalkar) gives them a make-over in order to sell them for tidy profits…. Read More
List of Sankat City Songs
Following is the list of songs with the singers.
01.Mumbai One Way Nagri Hai
Singers: Sukhwinder Singh & Ranjit Barot
02.Ghoom Ghoom
Singers:Roop Kumar Rathod, Ranjit Barot & Juune Banerji
03.Mister Hua Hai Aisa Hal Kyun (Remix)
Singers: Juune Banerji
04.Sha La La (She Is A Bad Girl)
Singers: Ranjit Barot
05.Mister Hua Hai Aisa Hal Kyun
Singers: Juune Banerji
Sankat City Music Album
Album: Sankat City
Music Director: Ranjit Barot
Lyricist: Panchhi Jalonvi, Mehboob
Sound Designer: Arun Nambiar
Playback Singer: Sukhwinder Singh, Ranjit Barot, Roop Kumar Rathod, Junne Banerji, Sabri Brothers
Background Sound: Ranjit Barot
Format- MP3 and Audio CD
Download Songs of Sankat City
As mentioned Isongz.com doesn't offer MP3 downloads.
There are many sites to download Sankat City songs free but most of them are illegal and not preferred.
To download the songs of Sankat City legally you can sign up to brand new site offered by BSNL at- http://bsnl.hungama.com/ (Songs.pk might be an illegal website and should not be used) which offers the latest hindi songs download at just Rs. 150 per month. The songs quality is amazing and 100% Legal.