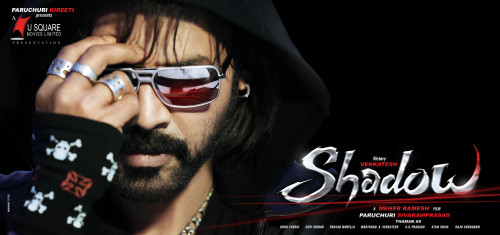 Shadow 'The Dark Side of Truth' is an upcoming Bollywood Movie that is releasing on 21 August 2009. It is an action thriller starring Naseer Khan and Sonali Kulkarni. Naseer Khan is blind in real life but we will see him perform various actions and stunts in this movie. The movie Shadow directed by Rohit Nayyer is under the banner of Great Entertainment. The music and songs of Shadow are directed by Anand Raj Anand.

Movie Trailer
Movie Story
The movie stars actor who is blind in real life but we will see him in reel life. He will be performing various breathtaking stunts and actions in the film. It is an action thriller with suspense and drama. It is expected to be good movie.
New: The was not up to expectations, and was rated badly all over. The thrill was missing and so was suspense. The concept was good but film failed to induce it.
Shadow Music Album
Album- Shadow
Music Director- Anand Raj Anand
Label- Great Music
Lyricist/s : Satyaprakash, Anand Raj Anand & Anjan Saagri
Singers : Sukhwinder Singh, Sunidhi Chauhan, Roop Kumar Rathod, Neeraj Shridhar, Anushka Manchandani, Akruti Kakkar & Anand Raj Anand
Audio Release Date : July 2009
Source- Audio CD and High Quality MP3
List of Songs of Shadow
TrackList with name of singers of respective songs:-
01 – Anand Raj Anand Anushka Manchanda – Yaariyan
02 – Sunidhi Chauhan – Masti
03 – Sukhvinder Singh Aakruti Kakad – Shadow
04 – Sunidhi Chauhan – Khumariyan
05 – Roop Kumar Rathod – Rabba Rabba
06 – Anand Raj Anand Aakruti Kakad – Dil Ke Taa
Download Shadow Songs
As mentioned Isongz.com doesn't offer MP3 downloads.
There are many sites to download Shadow songs free but most of them are illegal and not preferred.
To download the songs of Shadow legally you can sign up to brand new site offered by BSNL at- http://bsnl.hungama.com/ (Songs.pk might be an illegal website and should not be used) which offers the latest hindi songs download at just Rs. 150 per month. The songs quality is amazing and 100% Legal.