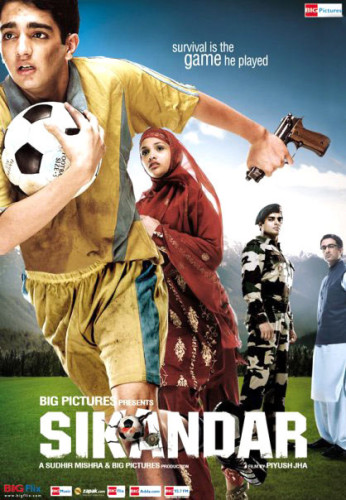 Sikandar is a Bollywood movie the is releasing on 27th March 2009. The film, which features Parzan Dastur in the lead role with R. Madhavan, Sanjay Suri, Ayesha Kapoor in pivotal roles amongst others is written and directed by Piyush Jha, while the film is produced by Sudhir Mishra. The film has terrorism in Kashmir as its backdrop. The film was previously known in its production stages as Foot Soldier.
Movie Information
Directed by Piyush Jha
Produced by Sudhir Mishra
Written by Piyush Jha
Starring Parzan Dastur, Ayesha Kapoor, R. Madhavan, Sanjay Suri
Music by Sandesh Shandilya
Justin-Uday
Cinematography Somak Mukherjee
Editing by Dev Jadhav
Distributed by BIG Pictures
Release date(s) expected March 2009
Running time 110 minutes
Language Hindi
Story of Movie
The film is a suspense thriller, which tells the story of a 14 year old schoolboy Sikander living in Kashmir with his uncle and aunt. One day, on his way home, from a school football match, Sikandar finds a gun lying on the path, This changes his life forever.
Music Information
Album………………….Sikandar
Artist…………………Various
Genre………………….Soundtrack
Year…………………..2009
Label………………….Big Music
Source…………………CD
No. Of Tracks…………..07
List of Songs of Sikandar
01. Dhoop Ke Sikke
02. Gulon Mein (Serene Version)
03. Arzoo (Naat)
04. Allah Hoo
05. Gulon Mein (Upbeat Version)
06. Manzaraat
07. Chaal Apni