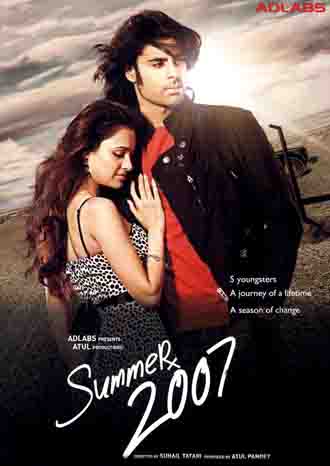 The rising news about farmers committing suicide has been well told in this contemporary Bollywood movie 'Summer 2007'. But, the film does give a solution to the issue but will sure be successful in give uplift to the youth to think. The movie has five newcomers on the lead role, Sikander, Gul Panag, Arjan Bajwa, Alek Sangal and Uvika. They are rban medical students and posted in a village in Maharashtra. Their lives changes from the easy to the thinking lot when they have to face the situations in the village. They get uneasily involved with the events in village and they choose to stay there facing it all with courage.
Summer 2007 Music Review
Music composer Gaurav Dasgupta has his name linked with hit numbers like 'Dus', and 'Aaja Soniye' from the movie Dus Kahaniya. He is back with Summer 2007 songs and has done it well this time over again. The film being about 5 youthful characters set in village background, the songs at songs.pk are a mix of the youthful renditions with the Indian feel to it. The opening song of the album, 'Jaaniya Teri' has good poetic lyrics which will make you melt unto it. The sad version of the song also sounds good to the ears. 'I Just want to fly' is a western track picturized on the urban life of the five friends. The song rightly has English and hindi lyrics well woven t give a good song. The title track 'Summer 2007' has Gourav Dasgupta as the ultimate show stealer won music, lyrics and even the vocals. The album in a whole is good one but went unnoticed.