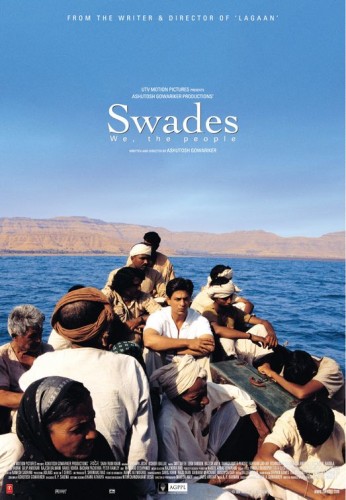 Swades is a movie produced and directed by Ashutosh Gowarikar, with Shahrukh Khan and the debutante actress Gayatri Joshi in the main lead. It received a cult following from Indian and South Asian diaspora around the world when it was released. It has an NRI, Mohan Bhargava, in the main lead as a project manager at NASA, who comes to India looking for his nanny Kaveri Amma with whom he is emotionally attached. This trip to India brings him face to face with the harsh realities of rural India – poverty, illiteracy, caste discrimination, child marriage, and conservativeness. The trip transforms him completely from a "mineral water only" NRI to a responsible and sensitive citizen of the country employing his education and the skills for the amelioration of life in his own motherland.
Movie Information
Directed by Ashutosh Gowariker
Starring Shahrukh Khan, Gayatri Joshi
Music by A.R. Rehman
Release date(s) December 17, 2004
Country India
Language Hindi/English
Movie Songs
After Lagaan, the legendary poet Javed Akhtar and music director A.R. Rahman paired again in this Bollywood movie to give some extraordinary songs acclaimed by critics for their variety. The album opening number yeh tara woh tara exudes a childlike excitement with its beautiful melody and lilting rhythm. Alka Yagnik enchants with her growing perfection in sanwaria sanwaria and again in dekho na, with Udit Narayan. Ahista ahista is melody at its best rendered by Udit Narayan and Sadhana Sargam. Yun hi chala chal is a road number sung by three singers, which talks about life and various moments in it that bring a smile on the face. All Swades songs, including the Ram Lila number pal pal bhari hai and the theme song yeh jo des hai tera, are available on songs.pk; just download them and immerse yourself in their melody.