Movie Poster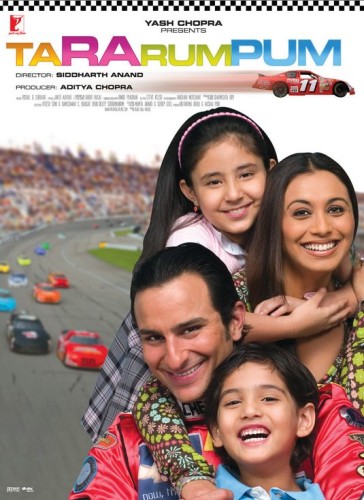 Ta Ra Rum Pum is Siddhrath Anand's second directorial venture with borrowed inspirations from Rocky, Days of Thunder and Cindrella Man. This Bollywood movie is a story is of a beautiful couple, Saif Ali Khan (Rajveer Singh) and Rani Mukherjee (Radhika), their kids, the ups and downs in their life and Car racing. Rajveer's racing talent was recognized by Harry (Javed Jaffri) and becomes successful in raising the reputation of 'Speeding Saddles'. He falls in love with Radhika. They get married and he gets immense success in racing career too. The couple have two kids, a boy and a girl. Rajveer looses his mental stature in a race accident and they are forced to sell all their assets to make their life and begin to live in an environment that the kids are never used to. They hide the reality from the kids and finally something turns up and the couple is on a struggle to regain their lost life.
Ta Ra Rum Pum Songs Review
Ta Ra Rum Pum has great music from Yash Raj Production house and they never let down their fans. All the Ta Ra Rum Pum songs have been composed well and can be downloaded from songs.pk. The title song 'Ta Ra Rum Pum' has been picturized well with the four of the family and animated charcters, and is a peppy family song. 'Nachle Ve' is what the audience has been looking out from the due Vishal –Shekhar. The song has been well incorporated into the movie as a peppy dance track which has a story to say. 'Hey Shona' is the song for the youthful loving hearts out there who always expect the best from YRF. The instrumental version of Ta Ra Rum Pum sounds really good especially when it has been used skillfully in the right locations of the song. 'Ab To Forever' is one song that didn't make it to the charts is the song where he tries to woo Rani and has all the desi love feel. 'Saiyaan' is a song with the sufi touch which has very inspirational music.