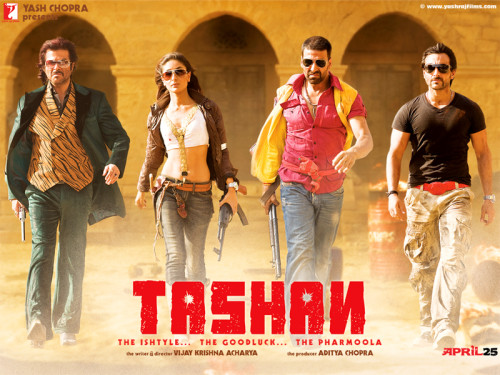 Tashan as a Bollywood movie is a lame try to recreate the magic of the 70's style in a modern setting. The movie has a great star cast, great music and classy styles, but a poor script which has done all the damage it can to the whole movie. Anil Kapoor plays the role of Bhaiyyaji, a gangster. Jimmy (Saif Ali Khan) is entrusted with the job of teaching Bhaiyyaji English. Pooja (Kareena Kapoor) is Bhaiyyaji's right hand, but she along with Jimmy swindle's his 25 crore rupees. Bhaiyyaji wants his money back along with their heads and brings in Akshay Kumar (Bachchan Pande). With arrival of Akshay the story turns a new turn but yet it turns sloppy all over again.
Movie Name : Tashan
Release Date : 25 April 2008
Genre : Action
Songs Director : Shekhar Ravjiani, Vishal Dadlani
Banner : Yash Raj Films
Producer : Aditya Chopra
Cast : Anil Kapoor, Saif Ali Khan, Akshay Kumar, Kareena Kapoor, Sanjay Mishra, Manoj Pahwa, Yashpal Sharma
Tashan's freaky Songs
With a great star cast, the music is also fine, but nothing to meet with the high expectations that were set on this great combination. 'Dil Haara' is a folk track by Sukhwinder Singh. It has been well composed with folk mixed with rock and a sufi feel as the song reaches with peaks. You will sit expectantly to release what you are hearing but the song works on an overall good tone. The Tashan songs has a very new idea which has four different tracks where each of them, Jimmy, Pooja, Bachchan Pande and Bhaiyyaji describe what Tashan is for them. But the tracks are extremely very short. 'Chhaliya' has Sunidhi Chauhan giving voice to Kareena Kapoor on the song which will have the words ' Na Lada Na Lada Tu Aaankh Na Lada' lingering on your tongue. The most rocking song of the album is 'Dil Dance Mare' with a kind of freaky music.