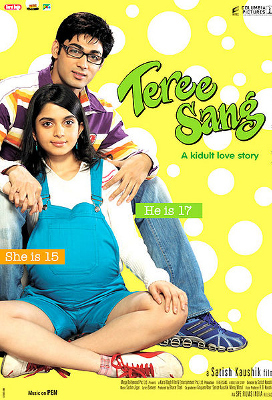 Teree Sang is an Hindi Movie releasing on 7th of Aug 2009. The movie has been directed by Satish Kaushik and produced by Bharat Shah. The promotion and and other production is being sponsored by two banners: Karol Bagh Film and Entertainment, Sony Pictures. The movie stars new actors like Ruslaan Mumtaz, Sheena Shahabadi, Neena Gupta etc. The music and songs of Tere Sang have been directed by Anu Malik. The movie story lies in the problems faced by the people and families who teenage children get pregnant.
Movie Trailer
Here is the Teree Sang Official Movie Trailer.
Movie Story
The story revolves around the two main leads that is Mahi (played by Sheena) and who is the child of Puri Family which is rich prosperous and respected. She is 15 years old and has got the best comforts possible as she the sweet girl. Kabeer (played by Ruslaan) who is a 17 year old who is aspiring, clueless, arrogantly neglecting, loving but still not much romantic from heart. He is from a family belonging to low class but still full of love and bonding. The story starts when Kabeer and Mahi fall in love at the age of just 17 and 15…. Read More
Music Of Tere Sang
Album- Teree Sang
Music Director- Anu Malik
Lyricist- Sameer
Sound Designer- Jagmohan Anand
Label- Pen Music and Sony Music
Singers- Various
Source- Audio CD
Format- MP3 or original Audio CD Tracks
List of Songs of Teree Sang
Here is the list of songs in Teree Sang movie and music album with the singers of the respective song.
| No | Song Name | Artist |
| --- | --- | --- |
| 01 | I Will Be There For You | Clinton & Dominique Cerejo |
| 02 | Morey Saiyan | Jigar & Sachin |
| 03 | Maula Mila De | Suhail |
| 04 | Rab Milya | Jigar |
| 05 | Miss Baabloo | Bappi Lahiri |
| 06 | Chal Mera Haath Pakad Le | Anmol Malik |
| 07 | Leja Leja | Jahnvi Shrimankar & Master Salim |
| 08 | Lal Quile Ke Peechey | Shaan & Anmol Malik |
| 09 | Tere Bin | Raza Hassan & Sumedha |
Download Teree Sang Songs
As mentioned Isongz.com doesn't offer MP3 downloads.
There are many sites to download Teree Sang songs free but most of them are illegal and not preferred.
To download the songs of Teree Sang legally you can sign up to brand new site offered by BSNL at- http://bsnl.hungama.com/ (Songs.pk might be an illegal website and should not be used) which offers the latest hindi songs download at just Rs. 150 per month. The songs quality is amazing and 100% Legal.