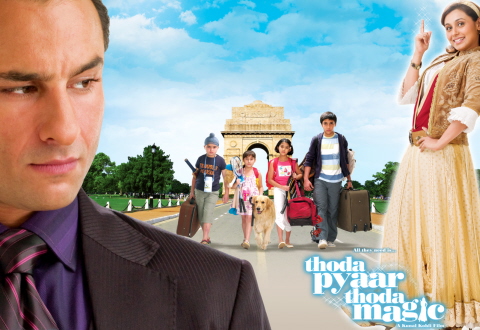 Thoda Pyaar Thoda Magic is a simple story that will make a person of any age group smile tenderly while watching the movie. But the Bollywood movie didn't fare well at the box office.The movie is a nice one and worth a watch. Saif Ali Khan (Ranbir) is a business man and lives a lonely life after he looses everyone he loved. In a court verdict he is entrusted as the caretaker of four orphans. The kids hate him and do not like to stay with him. He too finds it difficult to face the kids for some reason. The kids ask to God for help and then come Rani Mukherjee as the Nanny who is something like an angel. The next half of the story is very enthralling on how the kids and Saif is bought together by Rani.
Thoda Pyaar Thoda Magic Songs
Yash Raj Films has brought Shankar-Ehsan-Lou to compoe the music for this movie which is directed for the kids. But Thoda Pyar Thoda Magic songs weren't that big a hit at the box office. The songs are good enough and the opening song of the album 'Pyaar Ke LIye Kabhi Socha Hai Kya' will make you realize that fact. The song is amelody track with good music and the lyrics will make you feel good about the riches you have in life and the meaning of life. 'Nihaal Ho Gayi' is a qawwali kind of song, but does not do complete justice at it. But the remix version of the song seems better to the ears. The fairy tale song is 'Bulbula Kyu Koi Mujhko Haath' picturized over Rani Mukherjee. You can see elements of Hollywood inspiration all over the song. The club track cannot be missed in today's movies and has been done well with 'Lazy Lamhe Chalte Hai' picturized on Amisha Patel and the best heard in its remix version.