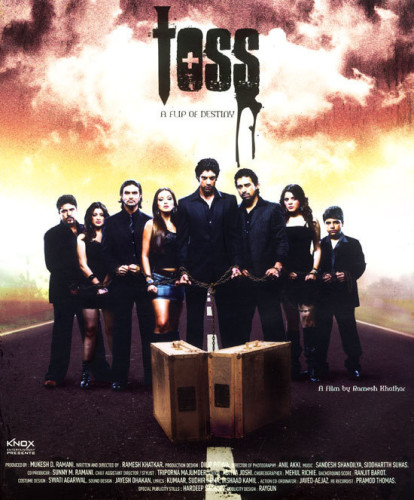 Toss 'A flip of destiny' is an upcoming Bollywood Movie releasing on 28 August 2009. It is a thriller directed by Ramesh Khatkar and produced by Ramesh Khatkar, Mukesh Ramani under the banner of Knox Entertainment. The movie stars Sushant Singh, Prashant Raj, Ashmit Patel, Rannvijay Singha etc. with Vijay Raaz as special appearance i.e. mostly new faces. The music and songs of Toss are given by Siddharth, Sandesh Shandilya and Suhas.
Movie Story
The movie is based on the fact that a single incident can change your life, indeed you! The story is based on the life of childhood friends who on their way back from a vacation find a fortune. They get excited and started calculating, divifing it in parts to distribute among friends etc, but forget to find out to whom it belongs. Soon the original owner is after them, the law is looking for them, and to worsen the situation all of them are after each other…..
Music of Toss
Album- Toss
Music Director- Siddharth, Sandesh Shandilya, Suhas
Lyricist- Sudhir Nema, Irshad Kamil, Kumaar
Playback Singer- Vijay Prakash, Labh Janjua, Sonu Kakkar, Suraj Jagan
Source- CD
Format- MP3, Audio CD
Movie Trailer
Source of this exclusive trailer- Sulekha
List of songs of Toss
01 – Ruppaia – Sandesh Shandilya
02 – Meri Khamoshi – Vijay Prakash & Sandesh Shandilya –
03 – Aish Aish – Labh Janjua
04 – Abe Saale – Sonu Kakkar
05 – Chalte Chalo – Suraj Jagan & Sunayana Mukherjee
06 – Abe Saale (Remix) – Sonu Kakkar
07 – Aish Aish (Remix) – Labh Janjua
Download Toss Songs
As mentioned Isongz.com doesn't offer MP3 downloads.
There are many sites to download Toss songs free but most of them are illegal and not preferred.
To download the songs of Toss legally you can sign up to brand new site offered by BSNL at- http://bsnl.hungama.com/ (Songs.pk might be an illegal website and should not be used) which offers the latest hindi songs download at just Rs. 150 per month. The songs quality is amazing and 100% Legal.