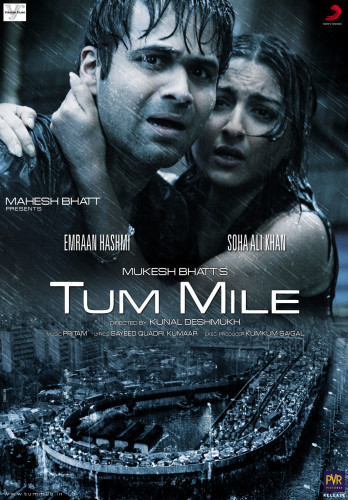 Tum Mile is upcoming Bollywood movie releasing on 12th of Nov 2009 directed by Kunal Deshmukh and produced by Mahesh Bhat under the banner of Vishesh Films, Sony Music. The movie stars Emraan Hashmi and Soha Ali Khan as the main leads. The music and songs of Tum Mile have been directed by Pritam. The songs are a huge success, and once again Pritam has done it. Nice background music, well suited lyrics and singers like KK make the tracks a success.

Plot:- Story of Tum Mile is based on the Monsoon in Mumbai and heavy rains, floods and how people have to struggle to live their breath.
Tum Mile Trailer and Detailed Story
To view the trailer of the movie and full story including cast and roles you can visit- http://www.indiaglitz.com/channels/hindi/article/48558.html
In general movie theme is romance based on Mumbai flood on July 26 2005. Two lovers who meet after 6 years and now occupying different worlds of their. They meet, start seeing each other again and develop a new bond. Then after heavy rains in Mumbai there is a flood and both of them get trapped in the flood. The movie is less about the floods and more a romance.
Album Information
Album Name- Tum Mile
Artist- Various
Music Director- Pritam
Lyrics- Sayeed Quadri, Kumaar
Source- Audio CD, MP3
Label and Copyright- Sony Music
List of Songs of Tum Mile
01 – Neeraj Shridhar – Tum Mile
02 – K.K. – Dil Ibaadat
03 – Javed Ali – Tu Hi Haqeeqat
04 – Mohit Chauhan – Iss Jahaan Mein
05 – Javed Ali – Tum Mile (Love Reprise)
06 – K.K. – O Meri Jaan
07 – K.K. – Dil Ibaadat (Rock)
08 – Shafqat Amanat Ali – Tum Mile (Rock)
09 – Instrumental – Soul Of Tum Mile
Download Songs of Tum Mile
As mentioned Isongz.com doesn't offer MP3 downloads.
There are many sites to download Tum Mile songs free but most of them are illegal and not preferred.
To download the songs of Tum Mile legally you can sign up to brand new site offered by BSNL at- http://bsnl.hungama.com/ (Songs.pk might be an illegal website and should not be used) which offers the latest hindi songs download at just Rs. 150 per month. The songs quality is amazing and 100% Legal.