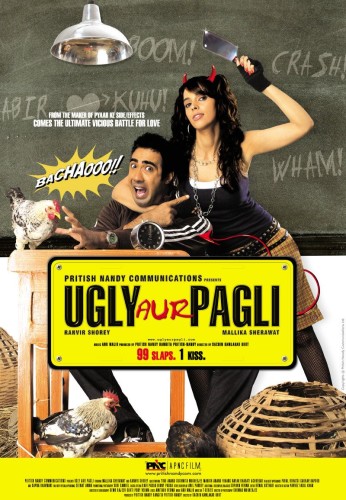 The name of the Bollywood movie (ie Ugly Aur Pagli) might sound weird and that is one factor that has attracted viewers towards it. The movie doesn't have a story as such but has been done well by Mallika Sherawat and Ranvir Shorey. Kabir (Ranbir) is a typical young guy learning engineering. His life changes when he meets Kuhu (Mallika). He goes oogly googly around her. Kuhu is a very dominating female while Kabir is a simple and soft guy. The movie is comic in the first half but the second half does not have a story to say. It leaves you full of questions.
Ugly Aur Pagli Songs
The movie goers expect the unexpected from an album with such a whacky name and to their surprise it has Anu Malik on the music scores. The first of the Ugly Aur Pagli songs will make you ask for more with its 'Talli' number. The song seems more like a Pritam number with the club feel and the mix of English and Hindi lyrics and the Hindi being Punjabi makes the club mix even livelier. The song is a sure shot from the movie and a must download from songs.pk. The remix version of the song has proved that the songs of the album are a hit if not for the movie. After the club mix, its time for rap and reggae with Ishq Bector's 'Karle Gunaah'. The album revokes the hidden clubber in you with the remix of the song. The third song is another funky number' Yeh Nazar' which has a melody base but western music strew all over it making it fit into the story line.