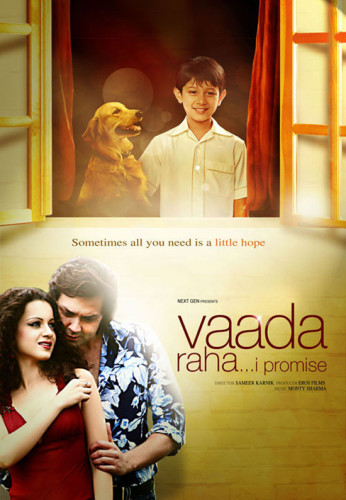 Vaada raha.. I Promise is an upcoming Bollywood Movie releasing on 11th Sep 2009 and directed by Sameer Karnik. The movie has been produced by Sameer Karnik and Sunil Lulla under the banner of Eros International. The songs of the movie Vaada Raha are directed by Monty Sharma, Babbu Mann, Toshi and Sharib.
Storyline: Duke Chawla's life today can be called gratifying professionally he is a successful doctor, personally an ardent lover and parent to a doting dog Junior. Currently, Duke lives alone with Junior. He loves Nalini, who is… More
Music Album
Album : Vaada Raha.. I Promise
Music Director : Monty Sharma, Babbu Mann, Toshi, Sharib
Lyricist/s : Babbu Maan
No of Tracks : 10
Cassettes and CD's on : Eros Music
Format : Audio CD and MP3
MP3 Quality : 320 KBPS
Singers : See Below
Audio Release Date : Aug 2009
List of songs of Vaada Raha.. I Promise
01. Vaada Raha – Toshi
02. Rab Na Kare – Babbu Maan
03. Kubul – Parthiv Gohil, Sharmista Chateerjee & Shell Hada
04. Aaj Aasmaan – Shaan and Shweta Pandit
05. Rab Na Kare (Accoustic Version) – Babbu Maan
06. Anchal Hain Mere Hausle – Kunal Ganjawala and Chorus
07. Vaada Raha (Remix) – Toshi
08. Vaada Raha (Theme) – Instrumental
09. Flying High (Theme) – Instrumental
10. Lost In Love (Theme) – Instrumental
Download Vaada raha Songs
As mentioned Isongz.com doesn't offer MP3 downloads.
There are many sites to download Vaada raha songs free but most of them are illegal and not preferred.
To download the songs of Vaada raha legally you can sign up to brand new site offered by BSNL at- http://bsnl.hungama.com/ (Songs.pk might be an illegal website and should not be used) which offers the latest hindi songs download at just Rs. 150 per month. The songs quality is amazing and 100% Legal.