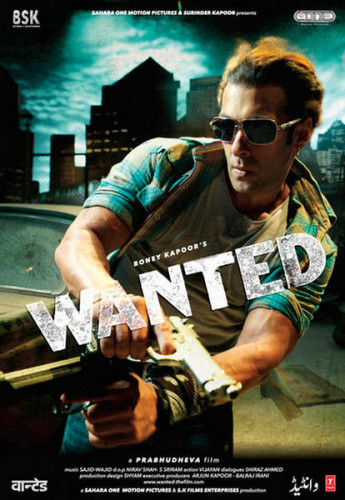 Wanted is an upcoming Bollywood Movie directed by Prabhu Deva starring the super hit actor Salman Khan. Other cast includes Ayesha Takia, Om Puri, Mahesh Manjrekar etc with Anik Kapoor as special appearance. The movie has been produced by Boney Kapoor and branding by Sahara One Motion Pictures. Music and songs of Wanted are given by Sajid-Wajid. The movie is expected to release on 18th of September.
NEW: The movie was a big and successful hit. It was one of the most popular Bollywood films of that year. Well, it had to be because of presence of actor Salman.
Wanted Movie Trailer
Movie Story
Wanted movie, starring Salman, is remake of Pokiri which was a telugu film by the same director. Pokiri released in 2006 was a hit movie and Prabhu wanted to bring the plot to Hindi Cinema i.e. Bollywood. The story of the movie is about and undercover cop (role played by Salman Khan) who works to find a mafia Don. Other methods failing, he has to become a part of them and work with them in the underworld to find them and their motive, and eliminate them.
Music of Wanted
Album- Wanted
Music Director- Sajid-Wajid
Music- Audio CD and MP3
Soundtracks- See Below
List of Songs of Wanted
The following is the list of songs with singer names.
01 – Wajid & Amrita Kak – Love Me Love Me
02 – Kamaal Khan, Sunidhi Chauhan & Suzanne – Ishq Vishq
03 – Shaan & Shreya Ghoshal – Dil Leke
04 – Suzanne, Saumaya Rao, Hrishikesh Kamerkar & Nikita Nigam – Le Le Mazaa Le
05 – Wajid & Url (Earl) – Jalwa
06 – Wajid, URl (Earl) & Sunidhi Chauhan – Tose Pyar Karte Hai
07 – Salman Khan – Most Wanted Track
08 – Wajid & Amrita Kak – Love Me Love Me (Mama Papa Mix)
09 – Kamaal Khan, Sunidhi Chauhan & Suzanne – Ishq Vishq (Remix)
10 – Shaan & Shreya Ghoshal – Dil Leke (Remix)
11 – Wajid & Url (Earl) – Jalwa On The House (Remix)