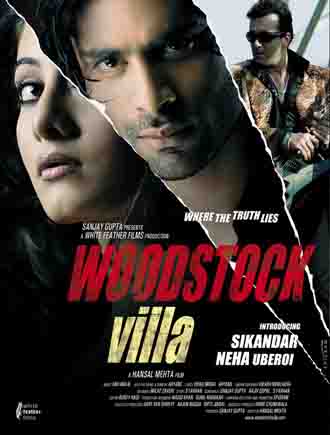 'Woodstock Villa', the name itself has a spooky eerie feeling around it. Well, the Bollywood movie is not a horror flick but a rather thriller ride which will make you feel as if you were watching a Hollywood movie. Arbaaz Khan is a rich industrialist and is married to Neha Uberoi. They live a happy life until she is kidnapped by Sikander one night. She demands a huge sum from Arbaaz in return of his wife. But, the story take a steep turn as Neha is murdered. The worried kidnapper buries her. What next? There comes a song sequence and you keep clutching onto the seat. The movie has been very well scripted keeping a good deal of thrill, but the untimely songs could have been avoided.
Woodstock Villa Songs Review
The movie has great songs to its credit even though the movie is a kind of uneasy story. Woodstock Villa songs are simply rocking. The song 'Dhoka' is a good one to listen to but never recommended for a logic freak. The lyrics will keep you searching for the meaning and the usages, but rightly created for the present world. The song is picturized well on Neha Uberoi in her debut lead role venture. The 'Club Mix'is really a rocking one and leaves one wanting more from the album. A different try has been attempted by Hansal Mehta by recreating the song 'Saawan Mein Lag Gayi Aag' originally sung by Mika a few years ago. The song was a hit then and is still a hit with this racy version downloadable from songs.pk. The most overlooked album from the movie is 'Kyun' by The Aryans which is picturized on Sanjay Dutt looks good on screen and otherwise too.