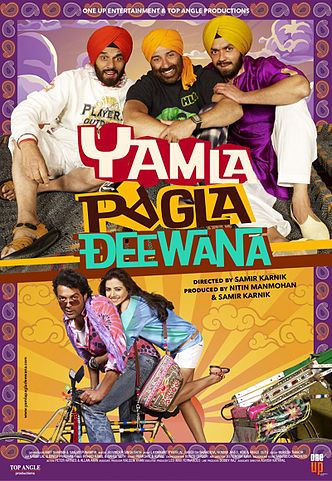 Dharmendra presents Yamla Pagla Deewana, a Sameer Karnik and Nitin Manmohan production Bollywood film releasing on 14 Jan 2011. Movie will be starring Sunny Deol, Dharmendra and Bobby Deol as main leads who were last seen in Apne. Paresh Rawal and Anupam Kher will also seen in this movie. The music and songs of Yamla Pagla Deewana are
directed together by Sandesh Shandilya, Noman Javed, Rdb and Rahul Seth. The film has been directed by Sameer Karnik and will be presented under the banner of Top Angle Productions. There's been a long time since Bollywood had a decent comedy movie, and hope so this will be one. The lyrics to the Yamla Pagla Deewana songs are written by Irshad Kamil, Rahul Seth and Dharmendra. Check out the list of the songs with name of singers below.
1 Yamla Pagla Deewana – Sonu Nigam & Nindy Kaur
2 Charha De Range – Shweta Pandit, Mahalakshmi Iyer & Rahul Seth
3 Tinku Jiya – Javed Ali & Mamta Sharma
4 Sau Baar – Omar Nadeem & Shreya Ghoshal
5 Chamki Jawaani – Master Salim, Daler Mehndi & Mamta Sharma
6 Son Titariya – Krishna Beura
7 Kadd Ke Botal – Sukhwinder Singh
8 Yamla Pagla Deewana (House Mix) – Rdb & Nindy Kaur
9 Charha De Rang (I) – Rahat Fateh Ali Khan, Shweta Pandit & Mahalakshmi Iyer
10 Charha De Rang (II) – Ali Pervez Mehdi
11 Charha De Rang (III) – Rahat Fateh Ali Khan
12 Gurbani – Shahid Mallya
The songs are already released in Audio CDs and MP3s.
'Tinku Jiya' is is an entertaining song from the movie 'Yamla Pagla Deewana'. The song is a masala item number which gained popularity due to the item girl 🙂 The music has been composed by Anu Malik. A kind of track that one would associate with a Bhojpuri film, 'Tinku Jiya'promises to be a raunchy number. Don't forget to listen to the others tracks of the album. In the mean time do check out the promo of this song 'Tinku Jiya'. Enjoy !