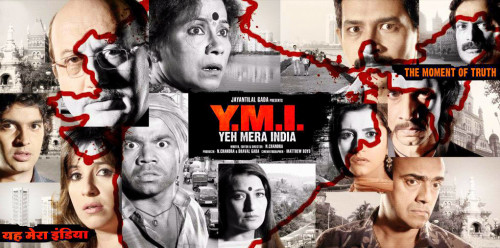 Yeh Mera India is a dramatic social movie which is releasing on 28 August 2009. The movie has been directed by N. Chandra and produced by N. Chandra, Dhaval Gada under the banner of Pen India Pvt. Ltd, N. Chandra Global Infotainment Ltd. The movie stars Anupam Kher, Atul Kulkarni, Milind Gunaji, Perizaad Zorabian etc. and many more such actors. The music and songs of the movie have been directed by Kavita seth, Siddharth, Suhas.
Movie Trailer
Yeh Mera India Story
Yeh Mera India is story about the growing violence in India and the root cause behind it. When we look up the news we usually see violence, atrocities etc. in the headlines. The movie explores the real stories (Communal Bias, Racial Bias, Gender Problems etc.) behind these headlines. This has been shown with the help of 12 actors as leads and various happenings in there life…
Music Album Information
Album: Yeh Mera India (YMI)
Music Director : Kavita seth, Siddharth, Suhas
Lyricist/s : Kavita seth, N. Chandra, Aasrif Dehlvi
Cassettes and CD's on : ASA
Singers : – Zubeen Garg, Kavitha Seth
List of Songs of YMI (Yeh Mera India)
01 – Zubeen Garg – Bansuri
02 – Kavita Seth – Aap Roothe Rahe
03 – Kavita Seth – Dil Mandir
04 – Kavita Seth – More Naina
Download Yeh Mera India Songs
As mentioned Isongz.com doesn't offer MP3 downloads.
There are many sites to download Yeh Mera India songs free but most of them are illegal and not preferred.
To download the songs of Yeh Mera India legally you can sign up to brand new site offered by BSNL at- http://bsnl.hungama.com/ (Songs.pk might be an illegal website and should not be used) which offers the latest hindi songs download at just Rs. 150 per month. The songs quality is amazing and 100% Legal.