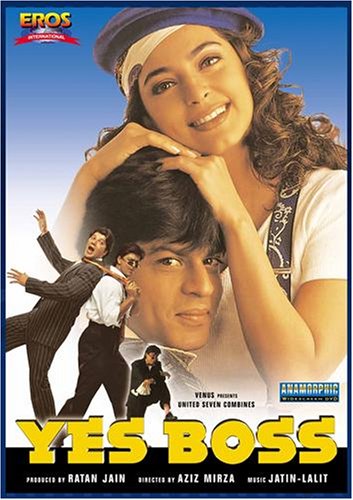 Yes Boss has a simple story line which tells about money, greed, and extra marital affairs. The whole thing has been said with a hitch of comedy to it. The bollywood movie has drama, comedy and romance together blending well into the story of the movie. Shah Rukh Khan (Rahul) wants to own an advertising company. For this reason he does anything for his boss, Aditya Pancholi (Sidharth ) so that he will help Shahrukh start his own company. Chaudhary is very weak with ladies and flirts even after his marriage. He recently falls for Juhi Chawla (Seema) who is a model and even Rahul falls in love with her. Will try to keep her away from his boss or simply give it in?
Yes Boss Songs Review
A beautiful album by Jatin Lalit musicals, Yes Boss songs are soothing to the ears and have that jingle factor in it. 'Chand Tare' is one of the best songs of the movie sung by Abhijeet with good lyrics.The song starts with a beautiful piano music by the duo. Shah Rukh tries to confront Juhi in this song. The picturization is very beautiful. 'Mai Koi Aisa Geet' is a song again starring Shahrukh and Juhi. This seems almost same like the earlier number but takes up a speed track after a little while. 'Suniye Tho' uses a different kind of music with the violin playing above all the notes giving a varied feel to the whole song. All the songs of the movie have been created very situational and there is no unnecessary inclusion of songs making it seem awkward. The soft number 'Ek Din Aap Youn' is a super all time hit for its great lyrics and wonderful music and a must download from songs.pk.