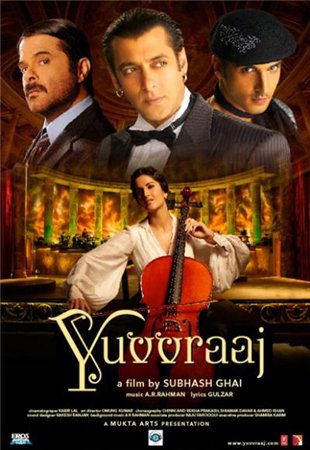 A Subhash Ghai movie is overlooked with great expectation and like most other Ghai movies; Yuvvraaj also focuses on drama. The story says how greed can take over a person as a whole and can ruin all relationships. Yuvraaj songs are worth listening to with Oscar Rahman on the music compositions. Salman han plays the lead role as Deven Yuvaraj who is singer in love with Katrina Kaif. Her father opposes the relation. Deven's father passes away and he goes to London to take over his father's wealth. There he meets his two brother's Anil Kapoor and Zayed Khan. Things take a twist from this point.
Breathtaking Songs from Yuvvraaj
The introduction song 'Main Hoon Yuvraaj' is a short song which has been sing by Salman Khan himself. With Salman playing the role of a singer in the movie, and music by none other than A R Rahman himself, the movie has a handful of great songs. 'Tu Meri Dost Hai' starts off as a simple track with its soft alluring music. The song has a mesmerizing enticing tone which will make you play the song on repeat mode and listen to it over and over again. The song has beautiful beats in tune with the melody and everything is perfectly assembled. And with lyrics by Gulzaar Saab, the song is more than magic. With Benny Dayal and Shreya Goshal on the vocals, the song is more than words can describe. 'Shano Shano' is the hit rock track from the movie, which its remix version which is a hit at most dance floors.
More Movie Information
Director : Subhash Ghai
Producer : Subhash Ghai
Starring : Anil Kapoor, Salman Khan, Katrina Kaif, Zayed Khan
Music and Songs : A R Rahman
Most Popular Yuvraaj Songs
"Tu Meri Dost Hai" sung by Benny Dayal, Shreya Ghoshal, A. R. Rahman
"Tu Muskura" sung by Alka Yagnik, Javed Ali
Video versions of above songs