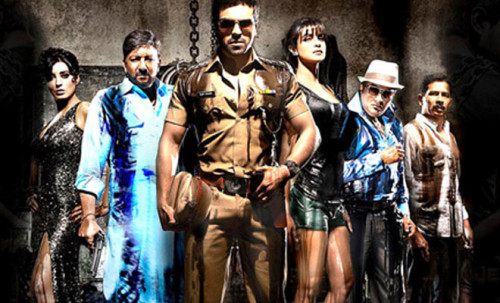 Zanjeer is an upcoming Bollywood film and has been produced by Apoorvia Lakhia. It is actually a remake of famous Hindi movie of the same name in which Amitabh Bachan was the main lead of the movie. Now, Ram Chandran and Priyanka Chopra are the main leads of this film.
In the movie Priyanka Chopra is playing the role of a NRI and falls in love with police inspector. As shown in the trailer's she comes to India to attend a marriage and gets into trouble as a crime takes place. Priyanka will be seen doing an item number song named "Pinki". She has been seen before in an item number called "Babli Badmash" which has a big hit.
Check out the trailer of the movie below:

Ram Chanran has before been seen in South Indian movies. He is playing the role of police (ACP Vijay). He has been trained by a famous fitness trainer from Australia and Ram flaunts his body throughout the movie. Amitabh Bachan will b also seen in the movie as special guest. The shooting of the movie is done in India only.
Cast
Ram Charan as ACP Vijay Khanna
Priyanka Chopra as Mala
Sanjay Dutt as Pathan Sher Khan (Hindi Version)
Amitabh Bachchan – Jimmy
Srihari as Pathan Sher Khan (Telugu Version
Prakash Raj as Teja
Zanjeer Songs and Music
The music album has been done by Anand Raj Anand, Meet Bros Anjjan and Chirantan Bhatt. All the songs have been penned down by Chandra Bose. According the people review and critics the music of the movie is plain and dull. No ones appreciating it, not even a single track is good enough to get noticed. But what can be expected from such a film. The movie is of action based genre and one doesn't expect good songs as we would have if it was a romantic one.
As per me, the one song worthy of attention if Pinky that too because of Priyanka. Though we expect more and better from her but it does ass some masala to rather dry music album. Still, keeps us wanting more.
Other Songs:
Mumbai Ke Hero – Mika Singh, Talia Benson
Pinky – Mamta Sharma, Meet Bros Anjan Ankit
Lamhaa Tera Mera – Sreeram Chandra, Shalmali Kholgade
Khochey Pathan Ki Zubaan (Qawaali) – Sukhwinder Singh
Kaatilana – Shweta Pandit
Shakila Banoo – Shreya Ghoshal
Kaatilana (M. B. A. Club Mix) – Shweta Pandit, Meet Bros
The movie will be released on 6 September 2013