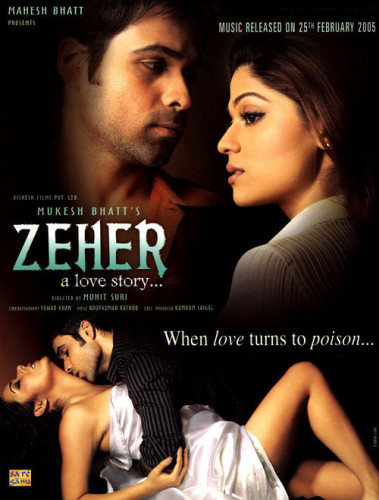 Mahesh and Mukesh Bhatt combine's Zeher, with its debutant director Mohit Suri, explores an uncharted path in their producers' quest for new-fangled ideas for new generation. It's not just the unusual storyline but also its execution that catches the viewers unaware. Siddharth, the chief inspector of a local police station in Goa is not in good terms with his wife and is on the verge of divorce because of his extra marital affair with a married woman Anna. Complications arise when he comes to know that Anna is being tortured by her husband, is pregnant with his child, and has cancer. He gives her the money he had unearthed in a drug raid in a bid to save her life but she dies the same night in a bomb blast. The rest of the movie is a race against time for Mohit to resolve the mystery of Anna's murder and save his marriage.
Zeher Movie's Hit Songs
Though the story allows little scope for music, yet the movie throws up some outstanding numbers. Agar tum mil jao is a soothing number by Shreya Ghoshal that reappears as a full length solo by Udit Narayan, and also intervenes intermittently in the instrumental version. Woh lamhe woh baatein is another melodious number sung marvelously by the new boy in town, Atif. Against the soft pop of the original version, the song reappears in a DJ mix version causing excitement with its feet tapping music. Jaanejan jaanejan and ae bekhabar are two other numbers, written by Shakeel Ajami, that are also likeable. Songs.pk offers a complete collection of Zeher songs, download and recreate the magic.
Agar Tum Mil Jao Video Song in HD quality