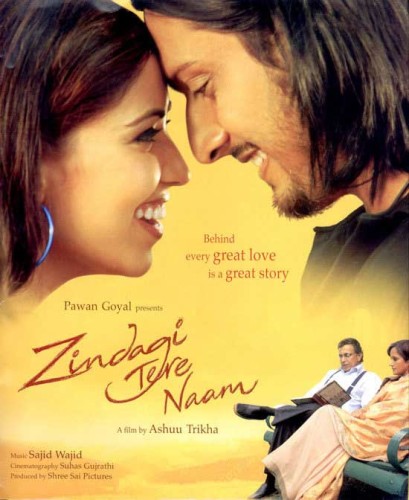 Zindagi Tere Naam has the long gone hero Mithun Chakraborthy coming back and is paired with the newcomer Supriya Karnik. But the lead actress in the movie is Dia Mirza. The movie has several new faces. The Bollywood movie has a typical love story as its main element. Sajid Wajid has a good script here with the love story which also tells the essence and importance of relationships. Family relations like the love between parents and kids are well depicted in the movie and the priority of love or family has also been well explained. The movie still didn't fare well at the box office, may be because of its poor star cast.
Zindagi Tere Naam Hindi Songs
Even though the movie is a low budget one, the songs are really good ones. The alum has all the necessary elements to make up a great hit. It has a dance track, an item song, the recently high demanded qawwali and the sad notes. The song 'Tu Mujhe Soch Kabhi' has been rendered very well in a ghazal kind of tone by KK. Jalees Sherwani has written the lyrics very well which explains the meaning of true eternal love. Shaan and Sunidhi make a great pair as always for the song 'Milne Ko Nahi Aaye' which is a love mix with English and hindi lyrics and runs on western influenced music. The song leaves a mesmerizing feel and the male and female solo version adds to your love for the song downloadable at songs.pk. 'Trishna Trishna Dil' has the Pakistani pop singer Amanat Ali Khan which is a high tempo song joined in by Sunidhi Chauhan.