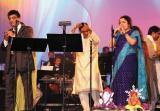 'The Merchant of Bollywood' a semi autobiographical musical of India's leading dance choreographer Vaibhavi Merchant is all ready to be staged in Malaysia this July.
Vaibhavi Merchant who is in Malyasia currently to promote her latest project spoke to the Star newspaper on Tuesday where she said that she is very excited to see the musical being staged in Malaysia and perhaps could try and pull Bollywood superstar Shahrukh Khan from his busy schedule to come and see the show in Kuala Lumpur.
As everyone know, Sharukh Khan has a huge fan following in Malaysia. Earlier this year, he was also made the Dakut, a traditional Malaysian knighthood. It would do great deal for the promotion of the Musical if Sharukh Khan showed up for the event.
The musical is choreographed in such a manner that it showcases Indian Classical dance in fusion with different genres of modern dances like funk, hip-hop and disco. The musical is said to run for almost 90 minutes and consists of 48 bollywood songs. The cast of 53 dancers will go through 1,200 costume changes and are said to adorn 2,500 pieces of Indian jewelery.
'The Merchant of Bollywood' is said to be semi autobiographical as 95 percent of the story line is said to reflect Vabhavi's life so far. She told the newspaper that despite discouragement from her family which wanted her to stay away from dancing and cinema, she was carrying on the legacy of her grandfather, the late Hiralal, a top choreographer of the 1960s.
Today she is one of the top choreographers in the film industry. She has been known to work with famous bollywood actors like Sharukh Khan, Amitabh Bachchan and Hrithik Roshan.
She went on to add that the musical is not just another project as it is not fictional but is a part of her and depicts a story which teaches that dreams do come true.
The musical has already left the audiences in Spain, Germany, Britain and Italy enchanted and the team hopes to receive the same response from the audience in Malaysia.