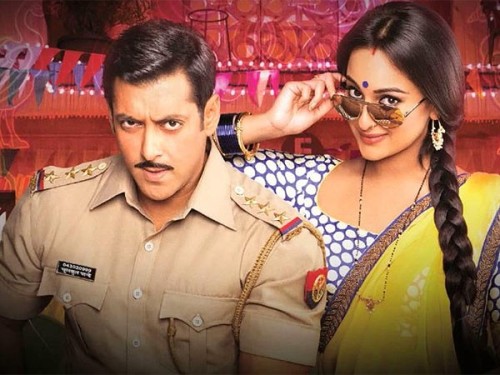 Chulbul Pandey alias Bollywood superstar, Salman Khan who has been rolling up his sleeves for his much-awaited Dabang 2, is all set to prepare to don his Dabanng garb all over again. This is the latest gapshap (buzz) in tinsel town, however with a slight difference.
Salman Khan's much-awaited Dabanng 2 team is back with a big bang as they started their hectic shooting schedule with a grand party. Bollywood hot favorites Malaika Arora Khan, Sonakshi Sinha, Salman Khan, Arbaaz khan and many other popular celebrities' were seen in the party.
Salman's return in Dabanng 2 in the well-liked avatar of the maverick inspector Chulbul Pandey will rock the Indian box office with his home production this Christmas. Salman Khan and Sonakshi Sinha will be seen in lead roles with Prakash Raj playing the role of a don (antagonist). Vinod Khanna, Sonu Sood, Nikitan Dheer and Deepak Dobriyal are the other actors who will be in supporting roles.
Poster of Dabang 1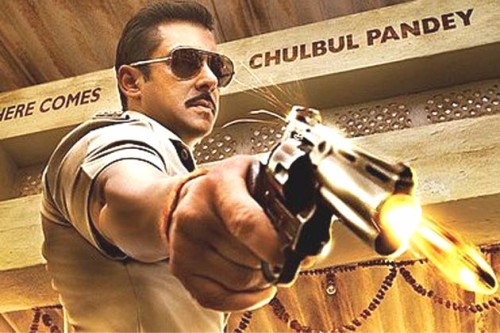 Salman Khan and Sonakshi Sinha are married in Dabangg 2 and they had moved to a bigger town, Kanpur. Thus the team created a huge set of Kanpur city occupying 80 per cent of the Kamalistan Studio in Mumbai.
Salman Khan, with his role as Chulbul Pandey in the sequel Dabangg 2 will rope in Malaika once again to dance with him to the tune of 'Pandeyji mare seeti'. The actress who will shake her body for the item song is expected to be even more entertaining and super-hit than 'Munni badnaam hui'.