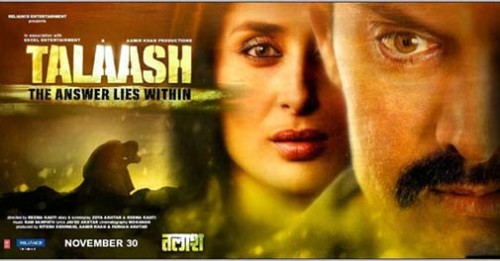 Bollywood gives its audience a tang of platter of movies. Once again Excel Entertainment and Aamir Khan Productions have joined hands together and produced a movie titled "Talaash: The Answer Lies Within". It is a forthcoming psychosomatic spy story that will keep viewers thinking on their seats. The movie is written and directed by Reema Kagti. The cast of the film is the crowning glory of the film. It star casts Aamir Khan, Rani Mukerji and Kareena Kapoor and every actor performs a key role in the movie. The music is given by Ram Sampath. The lyrics of the songs are expected to create magic in the air as they are penned by Javed Akhtar.
Amir Khan plays his part as a cop, with a twist of that cop being in a negative shade. Amir Khan spots stubble and plays his part as a crime branch officer. Reema Kagti and Amir Khan will not leave any stones unturned so the actors have already started attending workshops to give their best roles.
The word "Perfection" spins in our minds as we get a glimpse of Mr. Martinet- Amir Khan. He is known for the movies he picks as they give the audiences a gist of real life. His trait of having eye for small things crafts his movies into a block buster and delivers a total masala pack movie. Aamir intends four screenings of his movie Talaash to know public taste but the climax would be a hush-hush.