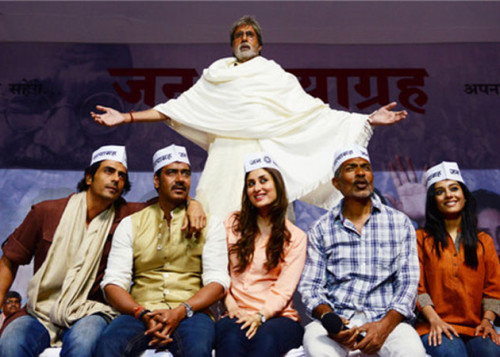 **Meaning of satyagraha is "insistence on truth" (satya 'truth'; agraha 'insistence')**
Satyagraha cast: Amitabh Bachan, Ajay Devgan, Kareena Kapoor, Arjun Rampal, Amrita Rao, Manoj Vajpayee
The movie is really being liked by the audience. For young blood its a must watch.The song name "Raghupati Raghav Raja Ram" has been improvised, like the line says "Sehte Jaiyen Sehte Jayein aisa bal bhi mat dena, uthh kar karne hai kuch kaam Raghupati Raghav Raja Ram". This line personally inspires me and touch's my heart.
Its high time India should wake up, its high time we all should stand against corruption as only we can change our country by standing against the corrupt politicians. Why politicians fake promises to the people (Janta) just for the sake of votes and once they are elected, they don't care at all, we are living in a democratic country, its our right to get all the facilities and rights we deserve and we are born with these rights. No law, no politician and no government has got the right to not provide us with our birth rights.
There's a song in the movie named Janta rocks. Janta has the power and rather than ignoring the day to day corruption, rapes, no basic facilities, crimes the country is facing we should start acting and doing something for our country because its our country "our INDIA"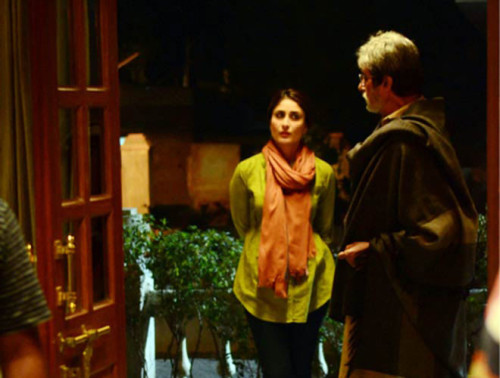 The actors have done a very good job and successfully given life to their characters. Kareena Kapoor has the character of a reporter who through media wants the country to stand against corruption.
"Hume Badalna padega tabhi desh baldega"
We are young and the new generation has fresh ideas. If all get united we can fight against all problems and make our country a better place to live in. I request all the citizens of India to watch this movie. The movie collected more then 44 crore in first 4 days of its release. It is an amazing film and every true Indian would love it.