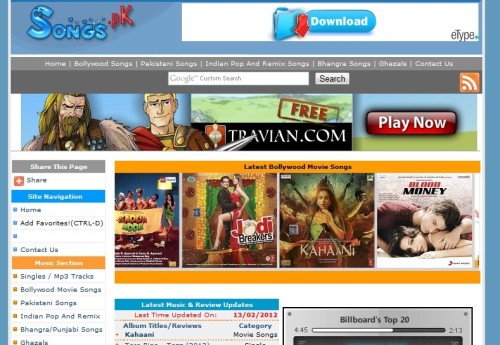 "The legality of the popular songs download site – Songs.PK"
The 21st century has witnessed the rise of the greatest invention of mankind till date. It is of course the Internet. The World Wide Web, or Internet, is a vast realm of digital space where anything seems to be virtually possible. While there are many positive uses of Internet like mailing people, staying in touch, video calls, news, online banking, etc, there are also many evils. Just like any other creation of science, it is actually up to the user to determine the judiciousness of the usage of Internet. One of the most notorious ill effects of the Internet has of course been the music piracy. Now, many of you people wonder that, is Songs.PK site legal? We download all mp3 songs from that site but is it actually legal to do so? See answer below.
Online Music piracy has risen up to shocking levels in the recent times. In absolute terms music piracy is nothing but the unauthorized copy and distribution of any piece of songs without prior consent or approval from any of the creators or copyright holders of that song. It can thus be looked upon as a special subset of copyright infringement. This is clearly unlawful in several countries around the world. Songs.pk is one such site which is tremendously popular in Hindi songs downloads but is infamous for its digital music piracy.
Songs.pk actually allows totally free download of music online, which is in itself an infringement of original copyright music. Thus, it is participating in an illegal activity online. Because of its popularity of the free music that it provides for the newest Hindi movies, it has easily come under the scanner for piracy. There are several lawsuits and piracy cases against the site albeit it is still topping the popularity charts for Bollywood song downloads. Hence, patrons should be aware of the fact, that downloading free music online is illegal, and the usage of such sites is unethical.