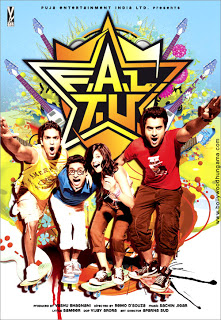 F.A.L.T.U, the upcoming Bollywood action movie romantic movie which is directed by the well knowned Choreographer Remo D'Souza, produced by Puja Entertainment (India) Ltd. The movie 'F.A.L.T.U' is set to realease on 1st April 2011 starring Jackky Bhagnani, Pooja Gupta, Riteish Deshmukh and Angad Bedi. Some famous movie stars are also there in the movie as cameo like Akshay Kumar, Amitabh Bachchan, Abhishek Bachchan, Kareena Kapoor, Salman Khan, Sushmita Sen, Mallika Sherawat, Akbar Khan. Check out the high quality trailer of the movie, am sure you will like it.
The entire storyline of F.A.L.T.U is based on the hilarious and fictitious educational institution called "Fakirchand and Lakirchand Trust University" that is started by a bunch of bored and spoilt college kids, who fritter away their time in frivolous pursuits like partying and roaming around aimlessly. The male lead is played by Jackky Bhagnani, who is the son of a famous producer, and the female lead is the former Miss India Pooja Gupta. Comic actors Riteish Deshmukh and Arshad Warsi too play key characters. Ultimately, F.A.L.T.U is a story about the realizations of the youth as to how to use their time and efforts innovatively in order to make something meaningful out of their lives.
Don't forget to check out the FALTU Songs.