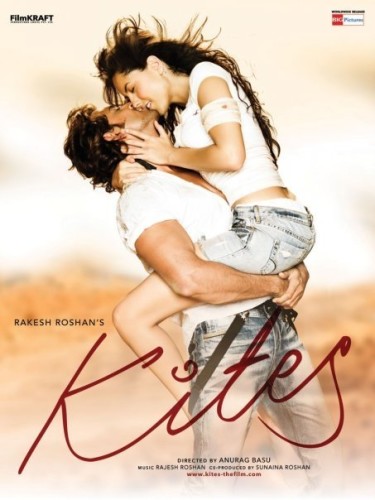 Kites is upcoming Bollywood movie and most of you are already families with this name. It is one of the most anticipated movies of Bollywood for year 2010. Starring Hrithik Roshan as the main lead and produced by his father Rakesh Roshan,
there are high expectations from this movie. A new face in Bollywood Industry, Barbara Mori will accompany Hrithik in this film. Other co stars include Kangna Ranaut, Kabir Bedi and Anand Tiwari. Directed by Anurag Basu under the popular banner of Film Kraft Production, Kites is releasing on 21st May 2010. Music and songs of Kites are directed by Rajesh Roshan and they are awesome. With fantastic music and one of the best singers like K.K. the music will surely rock everywhere.
Kites Music Album
Album Name- Kites
Music Director- Rajesh Roshan
Lyricist- Nasir Faraz, Asif Ali Beg
No of Songs- 9
Singers- K K, Vishal Dadlani, Rajesh , Suraj Jagan, Hrithik Roshan and Suzanne D'Mello
Label- T Series Music
Format- Audio CD and 320 KBPS MP3
List of Songs
Name of the song and the singer for respective song has been given below.
1. Zindagi Do Pal – KK
2. Dil Kyun Yeh Mera – KK
3. Tum Bhi Ho Wahi – Vishal Dadlani & Suraj Jagan
4. Kites In The Sky – Hrithik Roshan & Suzanne DMello
5. Fire – Rajesh Roshan, Vishal Dadlani & Anushka Manchanda
6. Zindagi Do Pal Ki – Remix – KK
7. Dil Kyun Yeh Mera – Remix – KK
8. Tum Bhi Ho Wahi – Remix – Vishal Dadlani & Suraj Jagan
9. Fire (English Version) – Rajesh Roshan, Vishal Dadlani & Anushka Manchanda
Listen to songs below-
You can also listen to songs for free at In.com
Dil Kyun Yeh Mera is a very nice song from Kites. I didn't notice it before but when I heard it with video on youtube I have started loving this song. Rajesh Roshan has done a wonderful job with the music and K.K. has sung it beautifully. Now I feel that it is way better then other Kites Songs like Zindagi Do Pal Ki.
See, below the HD Video Song Dil Kyun Yeh Mera from movie Kites starring Hrithik and Barbara and releasing on May 21st.
Watch on Youtube- http://www.youtube.com/watch?v=UzolskbLzeo
Song has been uploaded by some user "KabulHDVideo2010" at Youtube.
'Zindagi Do Pal Ki' is a very nice song from Movie Kites. The music of the song has been given by Rajesh Roshan and lyrics by Nasir Faraz and Asif Ali Beg. The song has been sung by one of the leading singers of Bollywood,i.e. K.K. The song has high popularity and MP3 version of the song has huge demands. See below the exclusive Video Song Promo of Zindagi Do Pal Ki from Kites Songs where Hrithik and Barbara look very nice together. The video is 1 min 8 sec long and quality is very high (equivalent to HD).
The lyrics of the song-
Zindagi do pal ki, zindagi do pal ki
Intezaar kab tak hum karenge bhala
Tumhe pyaar kab tak na karenge bhala
Zindagi do pal ki…… View Lyrics
Fun News: You would have heard the songs that are on the top of the charts these days. Yes, the Kites songs "Zindagi Do Pal Ki" and "Dil Kyun Yeh Mera" are top on the music charts with Behene De one of the Raavan Songs. The song 'Kites in the Sky'which i liked a lot is sung by Hrithik the star of Kites and I came to know it yesterday on Zoom TV news from Youtube. Hrithik has really surprised his father by giving his voice for this English song as his father didn't really expect him to sing. After the wonderful chemistry of Barbara and Hrithik, this song sung by him is another reason for everyone to watch this film.