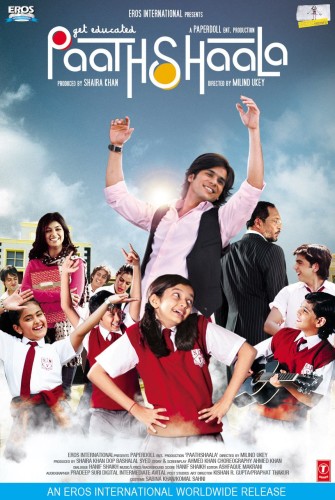 Paathshaala, the upcoming Bollywood Movie starring Shahid Kapoor with Ayesha Takia, Nana Patekar, Sushant Singh, Suniel Shetty, Ali Haji, Shraddha etc. is directed by Milind Ukey. Some say that it will be like Taare Zameen Par, as it story about Indian Edication and defects in Education etc. Lets wait till April 16 2010, because it is the date when this movie is releasing. Music and songs of are directed by Paathshaala Hanif Shaikh.
Music Album
Album Name- Paathshaala
Music Director- Hanif Shaikh
Lyricist: Hanif Shaikh
Label: T-Series
Format- Audio CD, High Quality MP3 (320 KBPS)
PaathShaala Trailer
The first theatrical trailer of this movie has been released by EROS Entertainment and given below (from Dailymotion). To watch the Paathshaala Trailer in HD you can visit EROS channel in Youtube.
List of Songs of Paathshaala
01. Aye Khuda
02. Paathshaala (Khushnuma)
03. Bekaraar
04. Mujhe Teri
05. Teri Marzi (Aye Khuda)
06. Aye Khuda (Remix)
07. Teri Marzi Aye Khuda (Remix)
08. Mujhe Teri (Remix)
09. Bekarar (Remix)
10. Paathshaala (Theme)
Download Paathshaala Songs
There are many sites to download hindi songs free but most of them are illegal and not preferred.
To download the songs of Paathshaala legally you can sign up to brand new site offered by BSNL at- http://bsnl.hungama.com/ (Songs.pk might be an illegal website and should not be used) which offers the latest hindi songs download at just Rs. 150 per month. The songs quality is amazing and 100% Legal. You can also download songs from http://hungama.com/ which is similar site.
Aye Khuda is a nice song from Movie Paathshaala. EROS has released the promo of Aye Khuda song. The total running time of the song is 1 min 10 sec approx. Watch the song below-
To watch the song promo at HD and very high quality please visit- Aye Khuda Song Promo and Aye Khuda Song Trailer
UPDATE: Now another song promo is available. The song name is Teri Marzi and the promo for the songs is available on Youtube. Teri Marzi has been sung by Kailash Kher and music given by Hanif Shaikh who is also the lyricist.
This is the 1:06 song promo for this song, to watch the 2 min Teri Marzi song please visit Youtube.